CURRENT NEWS:
Coni's painting "Veiled beauty" will be included in a major exhibition at the Castellani Art Museum of Niagara University, titled: Passion and patronage gifts from the Gerald Mead Collection, which will consist of 66 works by 46 nationally and internationally acclaimed artists. The exhibit runs July 3 to December 18, 2022.
Coni will have three artworks in the November 2021 Trompe Group Show at Meibohm Fine Art Gallery I. East Aurora NY.

Coni's painting/assemblage will be featured in the past presidents of the Buffalo Society of artist exhibition opening June 3, 2021 at the Carnegie Art Center in North Tonawanda New York. This work titled homage to Stephanie Kwolek is in the private collection of Gerald Mead.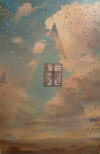 Coni's mixed media artwork titled
"
Poetry of the Universe # 5". Has won 4th place at the Center for the Arts at Bonita Springs. The exhibition titled BE-YOUtiful runs through March 2021. Coni collaged and painted over her Giclée canvas print of her original painting to create a new original piece of work.

Meibohm's fine art gallery will be producing a book on Coni's exhibit in September. The book will include all the artwork honoring the 26 women inventors. It will include an essay by Gerald Mead, and information about each woman inventor. It will be available through the gallery and on their website. The exhibition will also be on the their website under exhibitions.
An article on the exhibition written by Gerald Mead is scheduled to be in the September issue of Spree magazine Buffalo New York. It will also be advertised in American Art Collector magazine. And included in an editorial section on landscapes.
Castellani art museum in Niagara Falls New York is closed. They will be rescheduling all the lectures including Coni's Lecture for the future.
Meibohm fine Art gallery is rescheduling shows. The Trompe show scheduled for June of this year which Coni is participating has been rescheduled to November 2021.

Coni's painting: "Judy Chicago/what the history of art has done to women" is now on exhibit in the Castellani Art Museum 20/20 Vision show. The show runs through August 2020. Niagara University, Niagara Falls, New York, USA
Coni was also invited to give a lecture on her work June 10 at the Castellani Art museum. She is honored to be one of four speakers invited.
Opening June 6, 2020 Coni was invited to exhibit at Meibohm s fine art gallery In East Aurora New York USA. The title of the show is Masters of Illusion/ the art of Trompe L oiel. Coni will Exhibit 3 works. The show closes July 18, 2020.
Coni's painting titled Veiled Beauty, which is in the Castellani art museum collection was chosen to be in an exhibit there by the students of arts museum studies. The exhibit celebrates women's suffrage movement. Coni was invited to the opening to discuss her work and her new series honoring women inventors.




Coni s Trompe painting: Honoring Mrs. Kenan will be included in an exhibition at the Kenan Center. 433 Locust St. Lockport NY. The Kenan Center is proud to present works from the Kenan Center Collection. Reception June30 th. On view until July 21, 2019.



Coni's painting POETRY OF THE UNIVERSE: Energy. Won 2nd place in the Bonita Springs Art Center show titled: Movement and Migration. March 2019

Coni's Mother's of Invention series is now scheduled to premiere at Meibohm Fine Art Gallery October 2020. And will then be shown March 2021 at the Travonich Gallery at Bonita Springs Art Center.

After more than 30 years in Business. Eminent Design Gallery owners Tom McCabe and Jeffery Holloway retired and closed up the gallery. I wish them well and thanks them for believing in me and my work for many years. I can't thank them enough.

Also, owners of Fine Art @Baxters also decided to devote more time to their own work and closed.. I thank Vicki Farrow and her partners for all their hard work.


Coni's Trompe L'oeil painting titled TRAVEL STORY was juried into the Bonita Springs Center for the Arts Members exhibition. Opening February 1
st
. On display until February 22
nd
, 2019.

On display now. At
Burchfield Penney Art Center
, Coni's oil painting SURREAL SKYSCAPE will be on display until June 2019.

Coni's artwork "Honoring Maria Van Brittan Brown ". Will be shown in the Hallwalls Contemporary Art Centers member exhibit. Opening July 13
th
2018. Buffalo New York.

Coni was honored to be included in this Alumni exhibit at Buffalo State College.
Coni was commissioned to create a cutting edge art piece for Post Process Technologies, Buffalo, New York. The work honors the accomplishments of scientist James Joule.

September 2nd to September 30th,2017 - River Art Gallery. Coni is organizing a show: "Painting Under The Influence: Celebrating a Decade of Classes With Coni Minneci ". Over 30 artists are planned to show their work. Saturday talks are planned also.
October 2nd to November 18th, 2017. Coni's work will be exhibited in "Masters of Illusion: The Art of Trompe L'Oeil/Take a Second Look" at Meibohm Fine Art gallery, East Aurora, NY.
A miniature Niagara Falls painting by Coni is included in the exhibit: Small Works by WNY Artists: Selections from the Gerald Mead Collection. Peter and Mary Vogt Gallery Canisius College, Buffalo NY. Opening February 3rd. 2017 through March 2017.
December 29th, 2016 - February 17th, 2017 Center for the Arts Bonita Springs Florida. Coni's "A to Z" Series will be exhibited. Invited by Erhen Gerhard. Director, Center for the Arts.

Opening January 9th. 2017. At the Kenan Center Art Gallery Lockport New York. "WOMEN ARTISTS/Honoring Mrs. Kenan. ". All new works by Coni will be exhibited. Landscapes and a work honoring Mrs. Kenan. This exhibit starts the 50 year anniversary celebration of the Kenan Center.
Coni's Niagara Falls images were chosen by Delaware North Corporation to be included in a new LOCAL ARTISTS retail section in all the tourist gift shops at Niagara Falls NY.
Coni is grateful to be invited to be apart of the Living Legacy Project for 2016 at the Burchfield Penney Art Center. Artists selected are interviewed in depth and have an expanded BPAC web site presence. Materials and artworks by each artist are archived at BPAC Collection. These archived materials will be available for future research regarding WNY artists.
Carnegie Art Center, N Tonawanda NY "Studio 2016" April 7th - 30th, 2016 Instructors and Artists from Partners in Art Studios Coni has been an instructor at PIA for over ten years.
Daemen College Gallery, Amherst, NY 125th BSA Anniversary Year Past President's Exhibition. November, 2016 Coni is a two year term past President. Buffalosocietyofartists.com For more information.
Check out Coni's
Facebook page
for weekly updates and news.

A to Z exhibit at the
Burchfield Penney Art Center
goes till March 28 of 2016. Coni's trompe painting, "The Letter" is now in the permanent collection of the Burchfield Penney Art Center, Buffalo NY.
"A to Z/ An Historical Survey of Women Artists" will be exhibited at the Burchfield Penney Art Center, Buffalo NY fall of 2015. Opening
October 9th.

Coni's "Skyscape Marsh Trompe" (9x12 inch oil on panel) is now in the permanent collection of the Burchfield Penney Art Center, Buffalo, NY.
NEWS:
Coni's book/catalog: "Sharing the Spotlight" is now available at Partners in Art Complex, North Tonawanda, NY. Call 716-692-2141
CORPORATE COLLECTION: A commissioned art work by Coni, "Homage to Volta", is now a part of the corporate collection of Harper International Corporation, based in the Buffalo NY area.